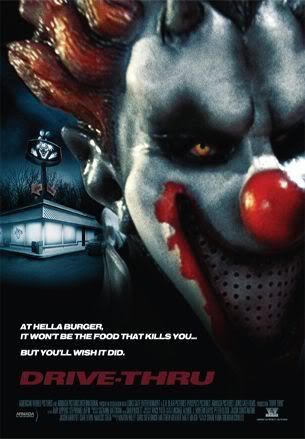 So Leighton Meester, a.k.a.
prime bitch
on
Gossip Girl
, wants to be a singer. In fact, she's got an album
coming out this spring
. It' will most likely totally suck but still have some fun pop moments, kind of like
Gossip Girl
! See? Everything comes together.
I came aross
this video
of Meester singing in a movie called
Drive Thru
, and then I realized that I've already seen it! It's a hilariously low-budget and ridiculous slasher
flick
from 2007. I watched it stoned in New Jersey a few months ago. Meester (
which totally sounds like Cartman as Edward James Olmos
addressing a distinguished gentleman, by the way) plays a vaguely punk rocker who's just too cool for her lame suburban wasteland of a hometown...
until all her friends start dying
! I think she lives at the end, but trust me, I'm not ruining anything. Anyway, I've only just now made the connection between Meester in that movie and Meester as Blair Waldorf. What can I say? She looks really different with straightened hair. And, like, not-really-expensive clothing.
-Josh